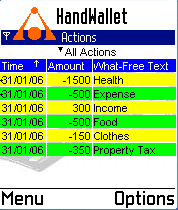 Well, if you was an earlier user of s80 you'll know that
HandWallet
is a software for the management of the financial life of families, partnerships and small companies. With HandWallet you will be able to calculate your budget better, to track your expenses and incomes and to predict your exact future financial forecast.
it enables to :


- Track an unlimited number of Bank accounts, Credit Cards or Cash.
- Manage unlimited number of categories and sub categories, persons, vendors and currencies.
- Graphic analyses of all aspects of the data.
Download it!
NB : Don't forget to sign it!
It may gives some errors on some s60 ;)